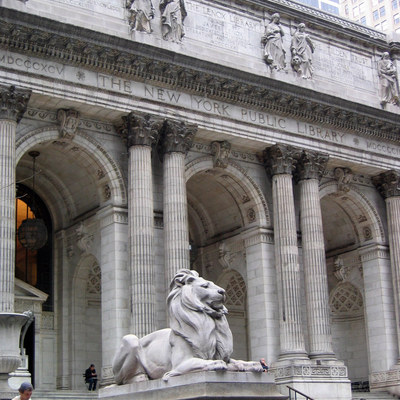 I have to post this. One of the first things I learned upon moving to New York City has to do with that beautiful New York Public Library with the famous lions and architecture. I was so excited to see it...to go study and do graduate school stuff. You know...experience the New York Public Library. But upon asking our New York friend where it was...he told me it is a "research" library...you can't check anything out there. Insert picture of me being sad...I think I pouted.
Then he told me the "real" library is right across the street. Oh!! Ok!! So I trotted my little self with my computer to the Mid-Manhattan Public Library to do some important graduate homework (insert me being slightly sarcastic). Anyway...I was so not impressed with the library. The level where it's ok to whip out your laptop and do work had a total of five outlets (not really being sarcastic)...with people on standby watching people leave like hawks swooping down to snatch the spots. So fortunately I finished my test before my computer's battery died. I don't think the library has been renovated or updated since maybe the sixties or seventies. Hmmm...
Oh and this was
after
I went to our local branch. At our branch I was looking for a book for my husband...a Neil Gaiman book called
Neverwhere
...and I swear the library had eight titles in the "G" section. Seriously....I think I have a better selection at home.
I was so disappointed that I haven't yet taken a photo of the famous library. The photo above is from
this
website.
Ok...enough of my rant...it's out and now I can spend the rest of the weekend being Thankful :)